What started it all?? - Sometime back around 1968, my Mom & Dad gave me a Cox P-51 U-Control for Christmas. This was the spark that ignited a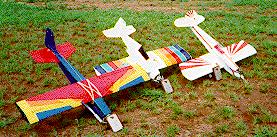 life-long hobby. I've been in and out, as most folks do with hobbies, but I always seem to drift back in. My last period of downtime was about 13 years (!!), during which time my wife and I changed jobs, bought a new home and moved, and started up a business that consumed nearly all of our spare time. Finally, in 2006, I was able to find time to get back into the hobby. Thank goodness I kept all of my gear, most of which I've had to repair before it could be used again.

Anyway, my first Cox P-51 U-Control plane was FAST, and promptly drove itself into the ground. My dad ordered a new wing, and we were off and flying again. I finally got so that I could fly it pretty well, and started getting other things like a PT-19, Nobler, etc. I was also into Ham Radio, and that seemed to mesh with my R/C interests.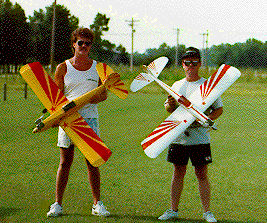 I remember several radio systems from that time (and before), but alas...I no longer have any of them. ControlAire, Pro-Line, E.K.Logitrol, Heathkit, World Engines, Bonner, etc. I wish I'd taken pics of my early planes and radios, 'cause my memory of the specifics isn't so good from those early days. I do remember girls... Girls came along around '74, and I got out of R/C for a while.

My first venture, when I returned to R/C around '79, was a 2 Channel Cessna RTF from Cox. It came with a Cox/Sanwa 2ch radio, a little spring start .049, and a styrofoam semi-Cessna that wouldn't fly below mach 2. Next came a Dynoflite Piece-O-Cake, which was a joy to fly and would easily thermal. Then I had a flying styrofoam brick called a Cessna 150 from Hobby Shack (now Hobby People), using a Thunder Tiger .15 and basic Futaba Am radio system. The plane was underpowered, too heavy, and had too little wing area for it's weight. I bought a spare wing, cut sections out and joined them to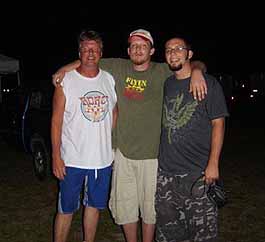 almost double the wing area, added flying wires, and it flew great. I flew it for about 4 years, and regretfully I only have the crash photo.

I flew fairly steady and often until about '93, when I took a 13 year break. Up until then, I was flying in lots of Fun Flys over several states, designing and scratch building stuff with my buddies Glenn Speight and Garry Owens, standing on the leading edge of 3D before it had a name (and didn't even realize it until returning to the hobby 13 years later!), flying with lots of friends in the WRCMA in Wilson (DePratt, Grayson, Charlie, Johnny, etc), and having a generally great time. Along the way I also owned an R/C Electronics business (Hobby Radio), had the opportunity to have 'hands on' experience with loads of varied R/C gear, and even maintained the radio systems for the Cloud Dancers International Air Show Team. I couldn't imagine it being much better!

During my 'break', I did manage to spend some time with my sons doing a little kit building,
taught my oldest son (Chris) how to fly, helped my youngest son (Brandon) rebuild a Sig Kadet Jr, and hopefully passed on a hobby that they may continue throughout their lives...and enjoy it as much as I do. The pic above and right is of me and my sons at the 2006 Fly For Tots event at the RDRC field (before a little night flying). From left to right is me, Chris, and Brandon. The bug bit Brandon, and he's now flying, too! The pic on the left is Brandon working on his 'UFO', a Sig Kadet Jr. Chris originally learned to fly on a Goldberg Eagle II, and Brandon got his first stick time on a Sig LT-40. They both enjoy flying, but like with so many other things, other facets of life seem to get in the way far too much :-)

As time moved along, so did I. I built and flew a lot of different planes, some of which are listed in the LH menu. For many years I didn't know what a RC Club was, and flew from my Grandfathers farm, a local dirt road, and even from a subdivision near Clayton. When I moved to Cary for a few years, I flew out of a local ball field and from the back parking lot of my place of employment. I've been a member of the Johnston County club (back around 1980, in the days of the JoCo landfill field), RAMS for a short stint around 1984ish, Wilson R/C Modelers Association from 1985-1993, and was a member of Raleigh Durham R/C (RDRC) from 1993 to 2011, and again in 2014 after a 2 year break in the hobby. I was an associate member of the Tarheel R/C Flyers club from about 2008-2011. I've was a member of the Pilot R/C Club from 2011 through 2013. I am currently not a member of any club, but am flying on private property. As my free time improves, I plan to rejoin a local club, I think it's SO much more fun to fly with others.

On the left are links to pictures, info, videos, etc. associated with my years in the hobby, as well as some slideshows and videos of my Sons' R/C adventures. Some of the pics are my actual planes, some I had to download from the web to fill the gaps. Word of advice...take pictures of your planes and put them somewhere safe. If you don't, you'll regret it later in life! While you're here, be sure to click on some of the buttons at the top of the page to see more of my pics & info about RC Airplanes, and visit my simple RC blog at rcdave.blogspot.com.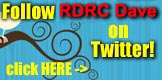 ---
Cams from RDRC Main Site. Images update each minute.